Request information on any of Century Air's training programs and services.
Request Now
Testimonial
"As a pilot for United Airlines, I have come across hundreds of aviation experiences. Only a handful of which can compare with mine. It took me only three years from the time I walked into your flight school to the time I walked into the cockpit of a United Airlines 727. This is an unheard of feat in the airline industry. I know that it would not have been possible without the strong flying background I received from Century Air and the hands on approach you took towards guiding me in making accurate career decisions."
Heidi F. Zapf
Captain
United Airlines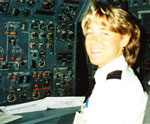 Frequently Asked Questions
Can I go on an introductory flight prior to enrolling in a course?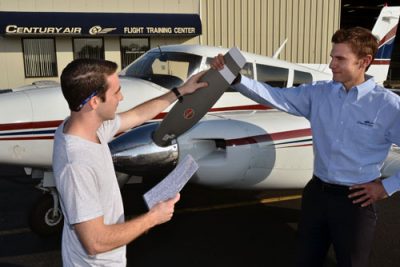 Most likely learning to fly is something you've often thought about and have wanted to do for a long time. If you have never been in a small aircraft you are welcome to take a familiarization flight; however, for most people this is not necessary. The individual consultation that Century offers should fulfill your interest in flying as well as answer all of your questions. A familiarization flight is always 'fun' but you must be enrolled in the school to begin learning how to fly and begin "logging" hours towards your pilot's certificate.
How long does it take to get a pilot's certificate?
Most people will achieve their private pilot's certificate between 60-65 hours of flight time. This includes time spent with a flight instructor (dual) and time spent flying alone (solo). How long the course will take is up to you. Century Air offers one-on-one instruction so you are able to schedule classes and flights at your convenience and availability. Usually three to four hours of flying time per week is a good learning rate and should average a six-month program for the private pilot applicant. Full time students should be able to complete the private pilot program in 8-10 weeks and/or the professional program (private, instrument, commercial and multi-engine) in 6-8 months.
How much does it cost?
Flight training costs will vary from student to student. You should expect to spend approximately $14,000 for a legitimate private pilot training program. If you want to become a career pilot you can expect to spend between $45,000-$50,000 for a Professional Pilot Program. For additional information regarding costs for a particular training course, please contact us via e-mail or call to set up a consultation.
Should I attend an aviation university if I want to be a career pilot?
Contrary to popular belief, it is not necessary to go to an aviation university to become a career pilot. It is important to get a four-year degree; however, it is not a requirement to obtain your degree in aviation. In some situations it may be more beneficial to obtain your college degree outside of aviation, as this offers you an alternate or secondary career choice. If you would like to attend a college offering an aviation program, Century Air is affiliated with the Utah Valley University (UVU) which offers on-line degree programs in aviation. Century Air has many graduates who have attended UVU's aviation degree programs and have been successful in earning their degree while training for their pilot certificates and ratings.
Do you have student loan programs?
Century is approved to offer students loans through Pilot Finance Corporation. You may contact us for additional information and applications, or you can go to www.pilotfinance.com to obtain more information or fill out the application on-line.
What is the enrollment process?
Students must first schedule and attend a consultation prior to beginning the enrollment process (International and out-of-state students may accomplish this step by telephone). Each course has a minimum number of required hours (set by the FAA for approved schools), and an average number of hours for completion. Each course requires a tuition deposit towards training before beginning. During the enrollment, students will receive their books and materials for the course, and will place the first course deposit on account. The amount of time it takes to complete a flight training course is solely up to you. There are guidelines for completion, however; all students will attend one-on-one training and will complete the course in their own time frame as determined during the enrollment.
Course brochures include more information on training and the costs for each course. You may request a brochure by contacting us (via phone or e-mail), or you may schedule a consultation to receive a full introduction to the flight training courses including cost and requirements. Please contact us for more information or course brochures.
When are classes starting?
At Century Air you will attend classes as determined by your personal schedule. All training sessions are conducted one-on-one with your instructor (whether ground or flight training) and can be scheduled to begin once you are enrolled in a specific course. Depending on whether you are a full or part time student, you will be expected to attend a certain number of sessions per week, as determined during your enrollment. Between classes, students will be required to complete a variety of self-study and Computer Based Training (CBT) lessons as well.
Can I fly during the winter months?
It is a misconception that flight training is a seasonal endeavor. Quite to the contrary, flight training can, and should be, conducted year-round as well as into the evening hours. It is important for pilots to experience flying in all seasons and different types of weather environments. Learning to fly in the Northeast offers even more opportunities to obtain real weather experience which is not only enjoyable, but extremely important for all pilots.
What are your business hours?
Century Air offers flight training seven days per week. One-on-one flight instruction allows a flexible training schedule which may include early morning, daytime and late evening hours. Century Air office and dispatch hours are Monday-Friday between the hours of 8AM-7PM and until 6PM on weekends. Consultations are available during office hours.
What type of aircraft do you have?
Century Air offers a variety of aircraft for student training. Student pilots will be trained in Cessna 172's (N,P,SP and G-1000 models). Advanced training is conducted in a variety of aircraft including the Cessna 172RG, Cirrus SR 20/22, or Piper Twin Comanche.
How do I get started?
Contact us to schedule an appointment for a consultation. During the consultation you will be introduced to the training programs, facilities, airplanes and all other aspects of what makes Century an exceptional flight training center. You will meet with a school training director and be able to discuss your aviation goals and have all your questions answered. Whether you desire to fly for pleasure or for a career, this is an education into your future in aviation.
What if I own my own aircraft?
Century Air can accommodate aircraft owners and their training requirements, as we are fully insured for these operations.