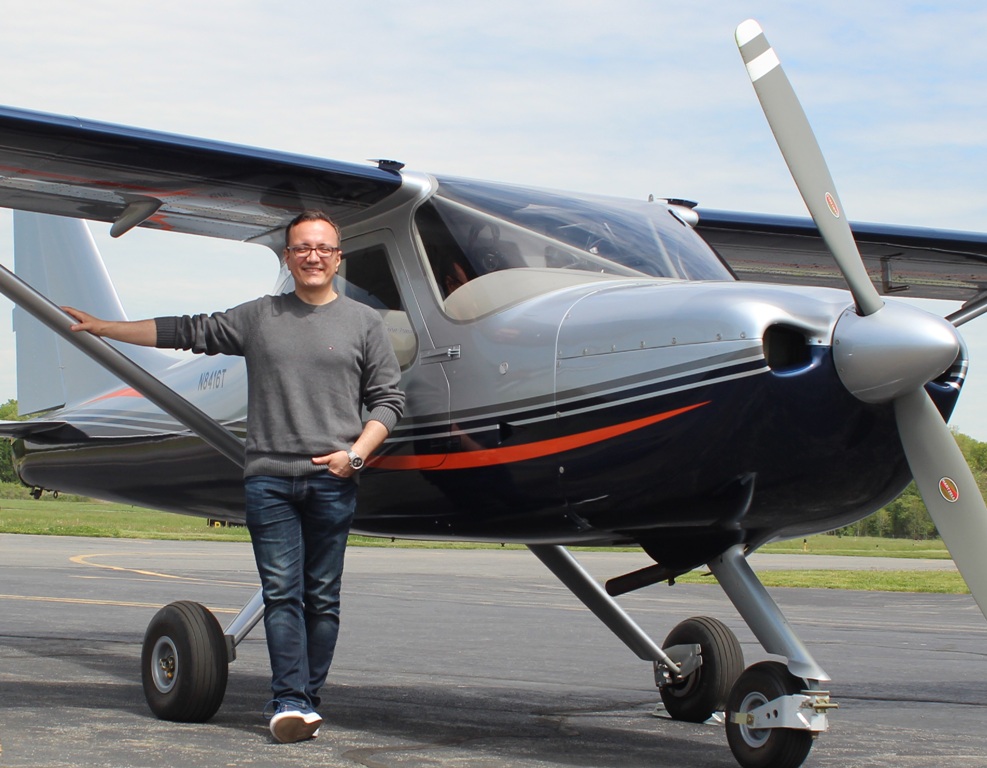 Morteza Meftah walked through the doors of Century Air in Spring 2016 with the goal of becoming a private pilot. By the time he soloed in August, he was already talking about purchasing his own airplane. Mort keeps very busy as an Orthopedic Surgeon in NYC, but he has had a lifelong fascination for aviation and a dream of flying float planes. When Mort began the search for his perfect airplane, he also envisioned the experience of tailwheel and back country flying. This led him to the Glasair Sportsman, a four-seat, high-wing, 210 horsepower aircraft which is controlled through a center stick. His decision was made and the order was placed in September with a delivery date of April 2017.
The Glasair Sportsman is built in the state of Washington by a team led by Engineer and Designer, Ted Setzer. Besides the sporty design and obvious appeal, the most unique aspect of this aircraft is that it can be re-configured from a tricycle gear to a taildragger, float plane or even a ski plane in a matter of hours. The aircraft is also equipped with a Ballistic Recovery System (BRS) which was a perfect addition to appease Mort's soon to be wife, Irina. In addition to the Sportsman, Glasair builds a variety of experimental aircraft (aka kit planes). But don't let the word 'experimental' fool you – it means that the owner of the aircraft is involved in its building, which, in this case was a builder-assisted production. Surprisingly, there are a large number of experimental aircraft built in the USA with a quality that is equal to, or even exceeds, many production aircraft. Glasair has been in operation since 1980 and has a proven quality of design and many years of success.
After months of production and much anticipation, the aircraft was ready to be picked up for it's cross-country flight back to it's new home in KCDW. Mort and Century Air instructor, Brian Konsko, planned their trip carefully, starting with an airline flight to Arlington, Washington (AWO) on Monday evening and preparation for an intensive training course to start early the next morning. The training was personally conducted by Mr. Setzer, and it was an intense five hours including some pretty amazing demonstrations of aircraft performance.
With training completed, Mort and Brian put 50 gallons in the fours tanks (15/15 main 10/10 aux), loaded up nearly 300 pounds of luggage, and set out on their eastward journey. Although they had a variety of weather obstacles and terrain to cross, they found a path to the west coast via Seattle> South to the Columbia River> West to the Pacific Coastline. The trip took 25 flight hours over three days with seven stops for gasoline, and a total distance of 3,250 nautical miles (see the map of their flight path across the USA below). They saw a top speed of 210 with a 74 knot tailwind, while their longest leg spanned over 700 nautical miles. With altitudes as high as 11,500 FT while still holding a 500 FPM climb and 115 true airspeed, these pilots were certainly impressed with this airplane's amazing capabilities. What a great machine!
Below are some scenic photos from the trip – including the snow covered mountains in Washington, the beautiful pacific coastline, the Golden Gate Bridge and of course, the magnificent Grand Canyon.
It was a wonderful cross-country flight and a great experience for both the instructor and new aircraft owner alike. What a great way to spend the first 25 hours of training in your new aircraft! Back at KCDW, Mort is now completing training for his private pilot certificate in his own aircraft and is set to take his check ride very soon. His future plans include earning his instrument rating, and taking a variety of flights with his fiancée, Irina in his Sportsman, N8416T – which was fittingly named for the date of his engagement, August 4, 2016.
Congratulations, Morteza! We wish you many great adventures and safe travels!
To read more about the Glasair Sportsman:
http://glasairaviation.com/sportsman/