Request information on any of Century Air's training programs and services.
Request Now
Testimonial
"The maintenance and appearance of your airplanes was absolutely top notch. I can truly say that I never had a concern with the safety of any plane I've flown at Century."
Keith Wolf
Computer Consulting
Chester, NJ

Aircraft Rental at Century Air
Century Air also welcomes new rental customers. If you did not previously receive training for a certificate or rating with Century Air, the aircraft listed below are currently available for new rental checkouts. Pilots must complete a thorough check-out in the aircraft intended for rental, and must fly a minimum of once every 60 days to maintain currency to rent any aircraft. Century Air also requires that all renter pilots have a current rental insurance policy on file for non-owned aircraft and liability coverage. Please contact Century Air for more details on the rental policies and aircraft rental availability.
We currently offer the following aircraft for new customer checkouts and rentals:
Cirrus SR-20
Cirrus SR-22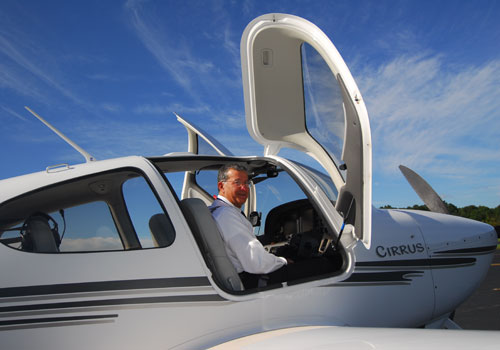 Century Air has the best-equipped, most professionally maintained fleet of aircraft in the New York and New Jersey area. We offer all of our aircraft for rental to our current students as well as previous graduates of our training programs. If you have not previously trained for a certificate or rating with Century Air, please see the aircraft available for new rental customers (listed below).
Century Air's Fleet consists of the following aircraft:

Cessna 172N Skyhawk
Cessna 172P Skyhawk
Cessna 172SP Skyhawk
Cessna 172SP NAV III Skyhawk (G-1000)
Cessna 172RG II Cutlass
Cirrus SR-20
Cirrus SR-22
Piper PA-30 Twin Comanche