Request information on any of Century Air's training programs and services.
Request Now
Testimonial
"THANK YOU ALL at Century Air for making the world safer with GREAT pilots."
Bill Asdal
Chester, NJ
Father of Ashley, Lindsey, Annie, Kirsten and Charlotte (5 sisters who have all graduated Century Air)

Veteran's Benefits at Century Air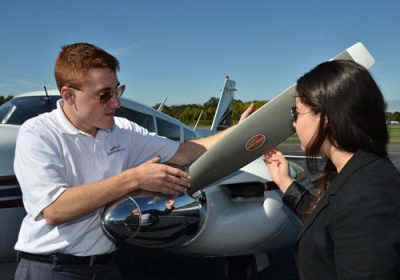 Century Air proudly offers Veteran's benefits (VA) to the men and women who have served in our armed forces. Century Air is an FAA Approved Part 141 school that is authorized to train eligible veterans for vocational flight training. There are several prerequisites for a veteran to be eligible for this program, most importantly, the applicant must possess at least a private pilot certificate, and qualify to hold a FAA second class medical certificate.
Interested veterans must apply to their local controlling VA office to determine the amount of funds available for training, and then apply to Century Air for enrollment in the appropriate course. Veterans are reimbursed 60% of the cost of flight training, up to the amount of funds personally available to them. Interested and eligible veterans should contact Century Air and the Department of Veterans Affairs for further information.