Request information on any of Century Air's training programs and services.
Request Now
Testimonial
"I would like to express my gratitude for the high caliber of training that I received at Century Air. I would gladly recommend Century Air to any and all persons that are looking to pursue quality flight training. Thank you again for meeting and exceeding my expectations."
Robert Bergen
Airline Transport Pilot
Oakland, NJ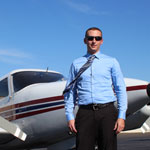 YouTube celebrity Tom Scott visits Century Air! Join Tom and John DeGroot as they take you on a flight along the NYC skyline!
Flight Over the East River - New York City
The Value of Excellent Training - A Testimonial by Multi-Engine Pilot Jerry Krivitzky
Learn to Fly with Century Air
Flight Around Freedom Tower, One World Trade Center (October 2012)
Watch Commercial pilot John DeGroot's flight around the Freedom Tower, NYC during its construction in October 2012.
Century Air Featured on CBS - "The Early Show"
Century Air was featured on The Early Show in a segment about learning to fly. David Price, the CBS Weatherman, obtained his Private Pilot certificate at Century, and is currently transitioning to the Cirrus aircraft for advanced training. September 25, 2008.