Request information on any of Century Air's training programs and services.
Request Now
Testimonial
"Century Air is a professionally run company that delivers on airline quality flight instruction. Richard the owner, has a very high standard and it shows."
David Camacho
Airline Transport Pilot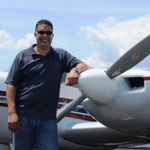 Century Air Gift Certificates
GIVE THE GIFT OF FLIGHT!
This is the perfect gift for father's day or mother's day – a birthday or any holiday! If you have an aspiring aviator in your life, this is a gift they will love. A personalized gift certificate for a 45-50 minute flight in a Cessna 172 (only $199) allows your gift recipient to take the flight controls and experience the feeling of piloting an aircraft for the first time. This is the perfect gift for anyone who in interested in learning to fly, and it's a great photo opportunity as well!
Gift certificates may also be purchased for a specific dollar amount by contacting Century Air. If your gift recipient is already a pilot, you may want to give a gift card which the pilot can use for continued training, an aircraft check-out (or rental), or for any pilot supplies they may need.
All gift cards are individually printed and personalized with the recipient's name and gift amount.