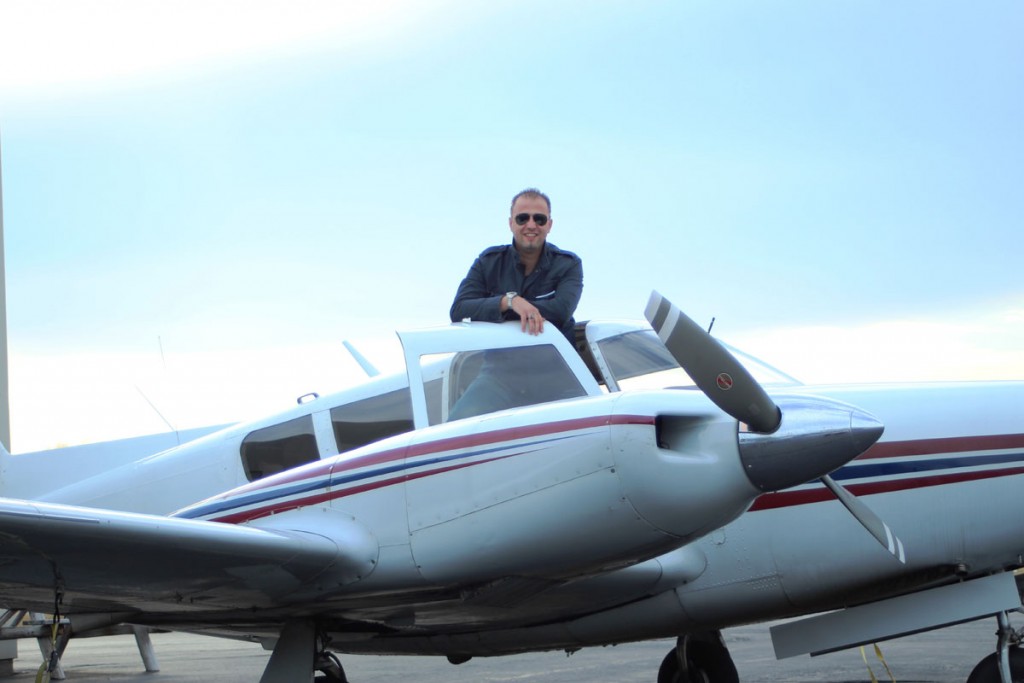 Mohammad Ajaj is Century Air's latest proud graduate of the professional pilot program (seen here with Richard Greene, right). After two years of hard work and excellent time management, he holds a commercial pilot certificate – single and multi-engine with an instrument rating. Aside from his many accomplishments as a pilot, he travels extensively with his position as Chief Operating Officer of a large national company, Metrolink, LLC., and is also a devoted husband and father of five young children.
With a successful business and growing family, at thirty one years old Mohammed decided it was time to realize his lifelong dream of becoming a pilot.  His older brother, who is Vice President of Metrolink, supported his quest and helped organize the business responsibilities to allow Mohammed to pursue his intensive flight training goals. Diligently Mohammad earned every rating and certificate with his constant focus on a higher standard of achievement.  As is true with many student pilots, he was intimidated by the idea of actually soloing an airplane.  "Thanks to the great skills and guidance from my instructor, Keith, I gained the confidence I needed to head up in the skies alone!"
Mohammad is originally from Jordan and has duel citizenship with the USA.  Now he has set his sights on returning to life in Jordan with his family and becoming a flight officer with Royal Jordanian Airlines.  He won't be giving up his current company, just continuing to manage his time and obligations while adding something he loves to his amazing resume – flying.
Mohammad was searching for a professional atmosphere and exceptional training program when he chose Century Air.  He met Richard Greene and was extremely impressed with his over fifty years of general aviation combined airline experience.  He was positive that Century Air was the right fit for him and now says "Century Air is like family to me."
We are very proud of Mohammad and his accomplishments. He's an amazing young man and we are looking forward to hearing of his future achievements in aviation. Keep up the great work, Moe – and be sure to stop by and visit your Century Air family along your travels!