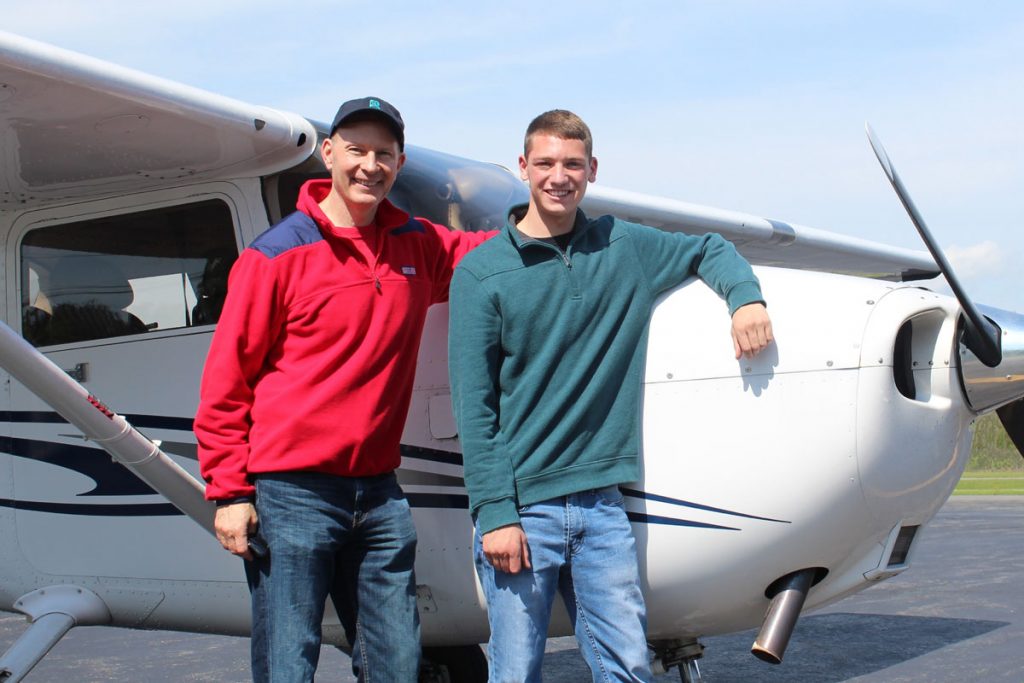 Jordan Behrle has certainly made a name for himself with Century Air! He is one of the youngest students ever to graduate the private pilot program. Jordan (right) is seen here with his father, Keith, upon returning from his first flight as a newly certificated private pilot – and his dad was his first passenger.
Just two years ago, Jordan and his father walked through the doors of Century Air on Jordan's 15th birthday and enrolled him in the private pilot program. A year later, at just 16 years old, he celebrated his first solo flight and then earned his private pilot certificate on his 17th birthday. That's the youngest you can do it! While most kids at this age are pondering what to do with their future, Jordan has clear direction for his. He knew he wanted to be a pilot as early as the 3rd grade when he was invited to go on a flight in a privately owned airplane. He recalls it as "the greatest day of my life". Considering his recent achievements, he has likely surpassed that day and is well on his way to many more in his future.
Jordan is currently a junior at West Essex High School and has his sights set on attending the Air Force Academy in Fall 2017. Until then, he will be continuing his training with Century Air to earn his instrument rating and further prepare for his aviation career and future in the military.
Jordan is an amazing example for what can be accomplished at such a young age. We are very proud of you Jordan, and honored that you and your father chose Century Air for your training. Keep up the great work and we look forward to hearing about your continued success at the Air Force Academy and beyond!