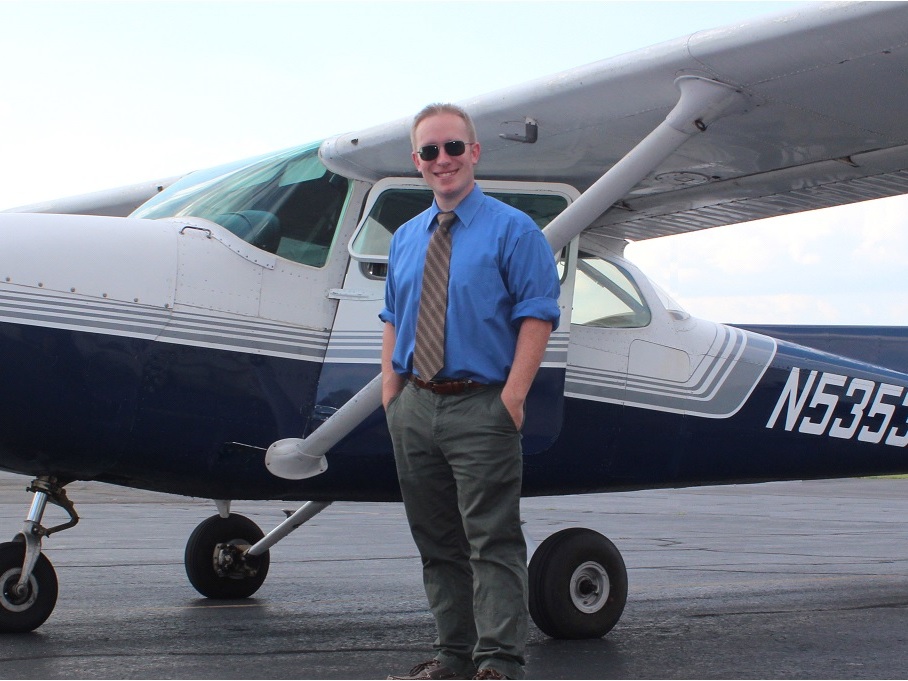 Our latest spotlight is on Joshua Weinstein, a long time customer and employee of Century Air.
Over 12 years ago, Josh Weinstein began working with Century Air as ground support personnel, while he was also attending college to earn his teaching degree.  He was hired in a Public School District right out of college and began the pursuit of his academic career while continuing to work weekends at the airport.
Since childhood Josh has had a passion for flying, and in 2007, as a hobby, he earned his private pilot certificate with Century Air.  He has enjoyed the fun of weekend flying ever since, building hundreds of hours and experience along the way.  During this time, Josh has also combined his love of flying with his teaching career by hosting annual "airport field trips" for his students.  By sharing his passion through teaching, he has mentored and guided many young minds to the possibility of learning to fly, and the opportunities that await them in the sky.  The events often included more than 30 kids at a time, and he is commended for donating his personal time and making a difference in the lives of many young aviator hopefuls.
Approximately a year ago, Josh decided it was time for a career change and he shifted his heading towards aviation as a full time endeavor with the new goal of an airline job in his future!  In less than one year he has added an instrument rating to his certificate followed by becoming a commercial pilot and finally earning his CFI (flight instructor certification).  With his background in teaching Josh breezed though the CFI training, accomplishing the rating in just three weeks (most pilots take six months to a year to gain the knowledge and skill necessary to become a quality aviation instructor).
We are very proud to announce that Josh is now working with us as a full-time instructor and we expect great things from him.  With his many years of experience as an educator and pilot, he is an outstanding addition to our team of professional flight instructors!