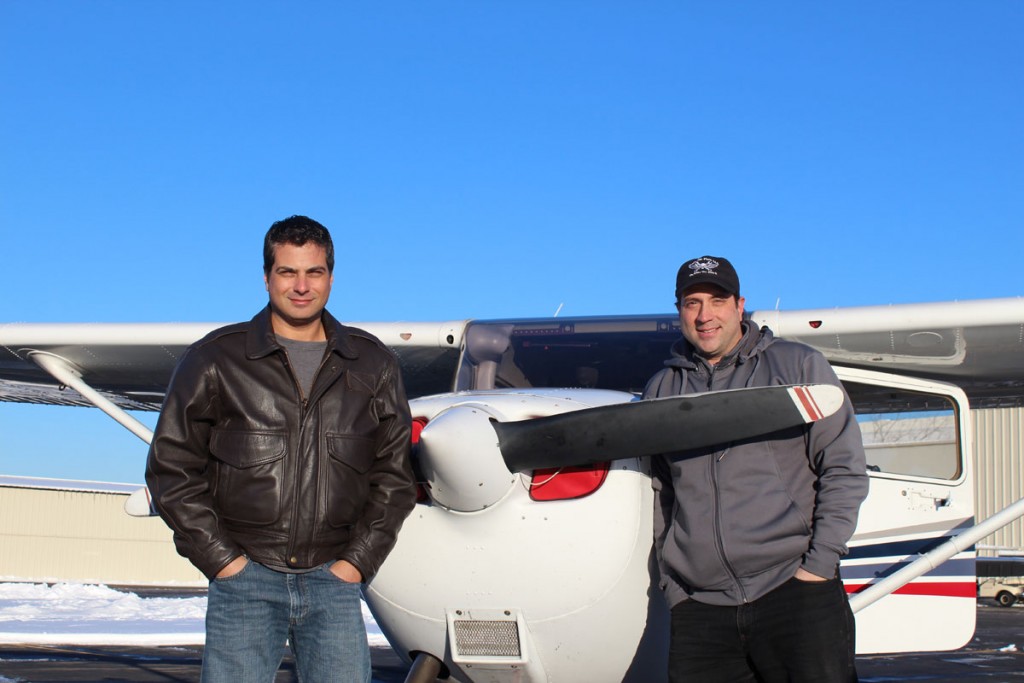 Sal Apice began learning to fly when he received a wonderful gift from his brother on his 40th birthday – a full private pilot course!  Sal (right) earned his pilot's certificate on January 25 and, very fittingly, his brother Jim (left) was his first passenger.
Although Sal is a new private pilot, he is not new to aviation. He has been flying model aircraft as a weekend hobby for many years. And it's a giant hobby! Sal builds and flies 1/3rd scale RC aircraft with 12 foot wing spans – from Cessna 182's to turbine jet aircraft. It's an amazing hobby and something all pilot's can appreciate! Take a look at the video of Sal flying his beautiful C-182 at Floyd Bennett Field (below). Although there are many differences when flying an airplane while standing on the ground, Sal says that a lot of his RC flying knowledge transferred easily to the real airplane.
Sal's brother Jim is a UPS pilot (flying 747's out of Anchorage, AK) who also trained in general aviation years ago. Before giving Sal his gift, Jim researched all the schools in the area and decided that Century Air was the best choice for his brother's education. He found that "Century Air was the only school that was owned and operated by a retired airline captain, which gave it much more credibility." 
Sal and Jim have many plans for enjoying flying together. Jim is currently restoring a Vintage 1964 Mooney aircraft in Los Angeles which they will be flying back to NJ together very soon. "We plan to visit all the small town airports across the country and enjoy a lot of $300 hamburgers!" Sounds like a great plan, and considering there are over 5000 small airports in the USA, they have a lot of flying ahead of them!
When asked about his training, Sal said his instructors were great and, of course, his first solo was the most memorable. "The most challenging part was the preparation for the FAA written exam, and also having to balance training with a demanding full time job."  Sal stated that even though it was difficult at times, "I just kept looking up and knowing that I wanted a little piece of what they have."
Well, you have it now, Sal. Congratulations and we wish you many blue skies across the USA to enjoy it!