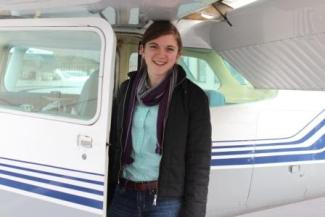 Congratulations to Charlotte Asdal, the youngest of five sisters who have graduated flight training courses with Century Air. Charlotte, 18, (above), achieved her private pilot license on February 10th and has already started working on her instrument rating. She will be graduating high school this spring, and is planning on attending the US Naval Academy in June, where she will be studying Arabic and hopes to eventually become a Foreign Area Officer. Charlotte will be the fourth sister to attend the US Naval Academy!
Read more about the sisters below. They are a truly remarkable group of young women who have accomplished amazing things in their very young lives. We are very proud that they have chosen to attend Century Air, and It has been a pleasure to have them training with us over the past 10 years!

Ashley, 26, (left) is the eldest sister and the first to attend flight training with Century Air. She enrolled in 2002, and completed her private pilot certification, instrument rating and multi-engine rating while also attending high school. Ashley graduated the US Naval Academy in 2009, and she went on get her Masters degree at Harvard and is currently deployed in the Arabian Gulf on the USS FARRAGUT, a destroyer based out of Mayport, Florida.
Lindsey, 24, (second from left) received her commercial pilot certificate with instrument and multi-engine ratings from Century Air in 2005. She went on to graduate from the US Naval Academy in 2010 and is currently flying P-3's in Jacksonville. Lindsey proudly graduated at the top of her flight class in Corpus Christi flying a King Air, and in Enid, Oklahoma flying T-6's.
Annie, 23, (third from left) received her private pilot certificate in 2007. Annie chose Duke University for her education, graduating with an economics and English degree in 2011. She is currently teaching in Memphis, TN with "Teach for America."
Kirsten, 21, (right) received her private pilot certificate in 2009. She is set to graduate from the US Naval Academy this spring as a Chinese major and is planning on continuing her studies at Oxford over the next two years.
Congratulations to all the Asdal sisters on your achievements and thank you for your service to our country!